Note: the following article was originally written in French, and can be viewed in French here.
A year ago, I had the pleasure to meet Anne-Françoise Pirson at the annual meeting of the French Federation of Gardens, Nature and Health (Fédération Française Jardins Nature et Santé or FFJNS). It was the end of January and we were gathered at the Ecole du Breuil, a famous horticultural school in the Bois de Vincennes on the outskirts of Paris, where our growing community was welcoming Gilles Clément, the French garden designer behind such concepts as the "moving garden" (jardin en mouvement) and the "planetary garden" (jardin planétaire) as an inspiring guest speaker.
It was a joyful day, a long-awaited reunion after two years of confinement, full of old and new faces. Pirson had just joined the FFJNS, one of a handful of international members scattered in Italy, Canada and Belgium. Pirson hails from Mons in Belgium where she lives and had just embarked on a new adventure with her company Le jardin qui prend soin (the garden that takes care).
"In Belgium, there are a few HT projects like Alain Flandroit's garden at the psychiatric hospital in Mons-Borinage. There are other projects, especially in Brussels where a trained psychologist is employed by a hospital as a horticultural therapist," Pirson, a psychologist herself, told me back then. "However, horticultural therapy seems less developed than in France. When I use this word, no one knows what I'm talking, whether among the people managing healthcare institutions, caregivers, plant professionals or elected officials. » This did not deter Pirson!
The Path Leading to Horticultural Therapy
After her studies in psychology, Pirson began her career substituting in psychiatry and other fields where she accompanied patients in crisis, foster children and newly arrived migrants. Then life took her in another direction: with her husband who was a cook, she opened a restaurant using local products as part of the locavore movement. Her next career move led her to a job selling specialized software for healthcare facilities. "As I approached 40, I needed meaning and looked for a job as a counseling psychologist, which I found in an health insurance company. The driving force for me was to get people access and reimbursement for mental healthcare. Some things worked nicely, but I was frustrated by how little impact I had despite a job that took up my days, evenings and weekends."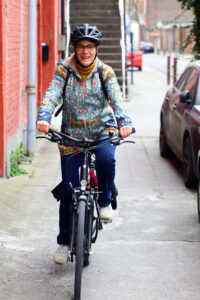 "Then Covid came along and work went online. I experienced a burn out. One day, the person who was helping me out suggested that I put some thought on my relationship with nature. I told myself that she was crazy, that she was just trying to keep me busy. But because I trusted her, I bought a notebook to take notes. And there, something came up within myself and I knew I had found what I wanted to do for the rest of my life. She had listened to what was nourishing me and heard that strong connection to nature."
Two trainings mixing theory and practice
With this idea in mind, Pirson went in search of training options. She first turned to Canada and Mitchell Hewson, the first horticultural therapist to obtain the title of "horticultural therapist registered" in his country and an honorary member of the Canadian Horticultural Therapy Association (CHTA). His distance-learning course provided her with the necessary theoretical background. For a "hands in the earth" approach, she traveled to the Paris area to attend a training with Terr'Happy, also a member of the FFJNS. She did complete that training in 2022. "The training is active because we do workshops with participants and care providers. We also meet other professionals with different practices, which opens up the field of possibilities." In parallel, she reads a lot, mostly in English. Naturally, she laments the lack of training in Belgium.
Another important element was a class in organic market gardening Pirson attended in 2014, "because I wanted to learn on a personal basis, with perhaps already the idea of a career change". As part of this training, an internship in a farm offering socio-professional rehabilitation provided another interesting experience for her current project. Running through these experiences over her lifetime, there is a thread made of her taste for gardening, a passion for hiking and cycling, and a certain frame of mind.
The birth of Le jardin qui prend soin
With her Canadian and French trainings complete, Pirson was ready to start her company Le jardin qui prend soin, first hosted in a business incubator and now a non-profit association. "This is more in line with my values. It is not possible to suspect the activity in any way – there is no personal and financial interest in this activity. It also allows me to participate in calls for proposals alone or with partners," explains Pirson. "I decided to take a part-time job on the side to make ends meet."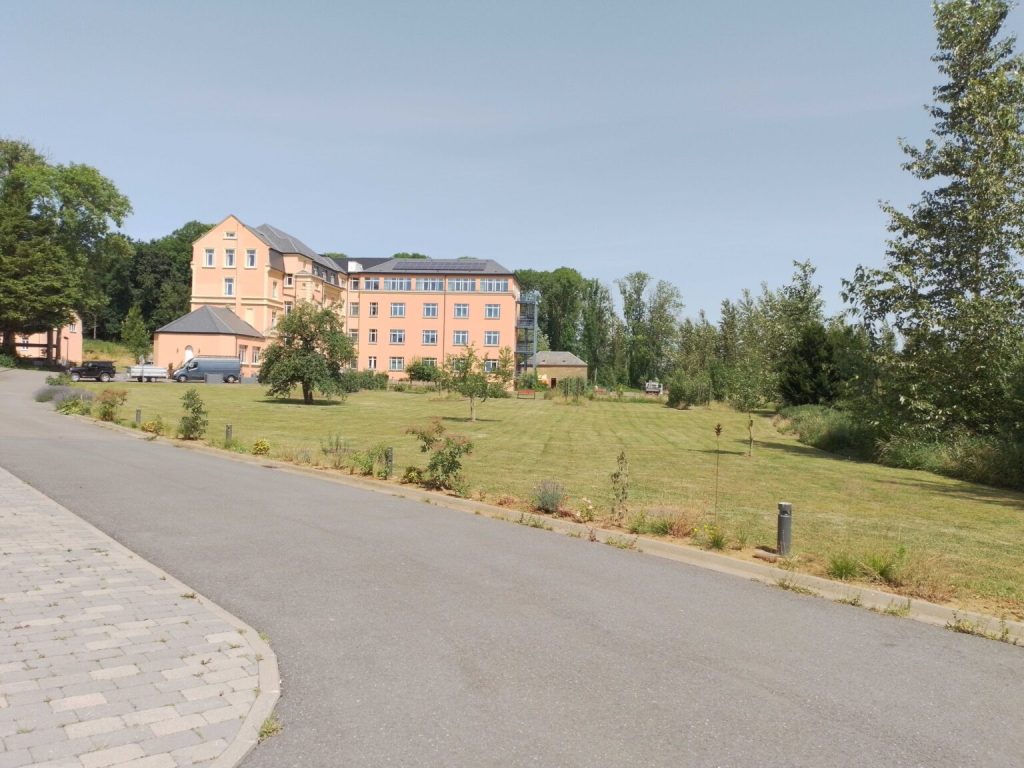 On her very educational website, Pirson talks about her journey and explains what she can bring to institutions wishing to include nature in their practices. She has also organized webinars to explain her approach and raise awareness of horticultural therapy. Her LinkedIn page is another effective tool for spreading the word about horticultural therapy.
As with any start-up, there are exciting days that bring good news and grimmer days when projects fall through like this garden in a home for women and children fleeing violence which never got off the ground because the budget was allocated to another project in the end.
HT at the Museum of Fine Arts in Mons
"The garden of the Museum of Fine Arts of my city, the BAM in Mons, welcomed me from May to September 2021 for 10 HT workshops. It was a test with the thought of a larger and more permanent garden project in the years to come. It was also a beautiful collaboration on welcoming various publics, being inside and outside, nature and culture, sensory stimulation, awakening visitors and leaving room for experience. Some may find it strange to combine a museum with a garden, but the museum and I thought it made sense."
"Each workshop will be offered only once to a small group from a different institution each time. There will be 90-minute workshops, followed by a tailored guided tour of the current exhibition in the museum for those groups who wish to do so", explained Pirson at the beginning of the experiment. "The first workshop in May was booked by a support care home for people dealing with cancer. The participating groups are very diverse: the elderly, the disabled, the visually impaired, the youth care sector, primary and community health care, at-risk participants and those coming out of homelessness or psychiatry."
"The experimental workshops went very well. They received very positive evaluations. The main point is that working in the public space adds a very nice dimension to almost all the objectives that can be pursued in the workshop." Here is a link to a video about these workshops.
"As a result of the experimental workshops at the BAM during the summer of 2022, we received a grant from the city's participative budget, about 16,000 euros to be used over two years to develop a therapeutic garden in a third-party site next to another museum. This time, thanks to that budget, we will be able to work over several years and anchor the project locally, in a participatory and inclusive approach on another site, adjacent to another museum, which is located on the outskirts of the city in a semi-urban and socially disadvantaged area, namely the garden of the Van Gogh Museum in Cuesmes."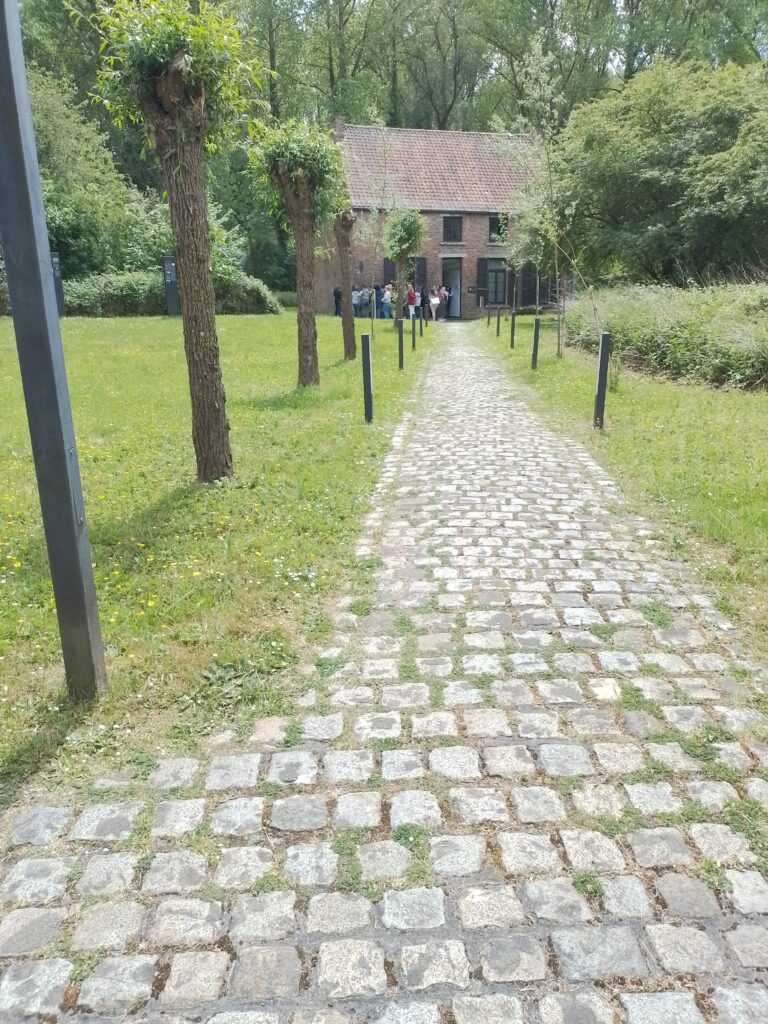 More projects in the works
Le jardin qui prend soin has launched two project studies for therapeutic gardens in nursing homes, one in Gaume in the countryside on a large plot, the other in Huy in an urban environment with a smaller plot. "Both projects are carried out by a small local team that I accompany step by step in the planning stages: staff from different backgrounds, residents, workers, management working on the dynamics and the meaning of the project, the analysis of the needs to be met, the arrangements to be made, the plant palette."
"From time to time, I am asked to give conferences or short trainings on horticultural therapy or to participate in events," Pirson explains. "I continue to build ties and to get to know other French-speaking Belgian actors, mainly healthcare professionals. In August 2023, we are planning a bicycle tour of healing gardens in Belgium with Romane Glotain who went on a Tour de France of therapeutic gardens in 2021. We hope to carry out this project as long as we can coordinate our schedules."
"Today, my days are varied, full of meaning. I meet beautiful people. And those around me think that this project suits me, concludes Pirson. This shows that a period of crisis can bring about positive changes. As my adviser would say, "You aced your burnout."
Author: Isabelle Boucq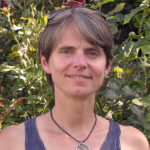 Isabelle Boucq, a French native and former HTI student, worked for over 20 years as a freelance journalist covering high tech, business and many other topics in French and in English. With her American husband and two sons, she has lived alternatively in Paris and in California. In 2010, she discovered HT and attended HTI classes before volunteering in an adult day center under the supervision of a HTI graduate. While preparing to return to France in the spring of 2012, she started a blog in French, Le bonheur est dans le jardin, to help French speakers discover the field of horticultural therapy through a variety of programs in France, in the US and all over the world. In 2018, she co-founded and served as the first president of the Fédération Française Jardins Nature et Santé to raise awareness about HT and other ecotherapies. That year, she also completed her studies in psychology. She currently works as a psychologist in a public hospital and in private practice in France
Anne-Françoise Pirson: Horticultural Therapy made in Belgium – Horticultural Therapy Institute (htinstitute.org)